After Google had their developer conference two weeks ago, it is Apple's turn this week.  Most of Apple's announcements this week are largely incremental as smartphone and computer hardware innovation is already hitting plateau.  Apple finally announced a much needed upgrade to the Mac line to keep the faithful from deflecting to the Microsoft Surface and other devices.  Many were puzzled why the company waited so long for the upgrade as many Apple frenetics are super loyal Mac users. The Verge put together a nice summary of the Apple event and you can read it here.  The biggest news, however, is the unveiling of the Homepod, Apple's answer to Alexa and Google Assistant.  Ironically, the rollout of Homepod reminds us Apple is falling behind in the all important battle of  A.I.
According to Washington Post, "Analysts say the question of whether Apple can succeed in building great artificial-intelligence products is as fundamental to the company's next decade as the iPhone was to its previous one. But the tech giant faces a formidable dilemma because the nature of artificial intelligence pushes Apple far out of its comfort zone of sleekly designed hardware and services." (emphasis added by me.)  Apple has largely won the war of smartphones and captured essentially all the profit in the market.  However, growth is slowing down significantly given the law of large numbers.  Many believes A.I. will be the core technology powering tomorrow's innovation including self-driving cars, home automation and many areas yet to be discovered.   Unlike Google and Facebook, Apple's products focus heavily on end-user privacy which is a great product differentiation. However, it also puts itself in an awkward strategic dilemma.  All else equals, the company with the most data has a significant advantage over the others in machine learning.  Unlike Amazon, Microsoft or Google, Apple does not have a meaningful presence in the cloud business, which will likely underpin the growth of A.I.  iPhone is the product that propelled Apple to be the most valuable technology company but it also hinders its ability to innovate in other categories such as A.I., said Tripp Mickle in a front page article of the WSJ yesterday.  From the developer ecosystem standpoint, Apple's presence in A.I. is relatively lackluster. Historically, Apple relies largely on internal R&D to drive product innovation.  It has done its share of acquisitions, including the technology behind Siri, but it has a more insular and highly secretive culture on R&D and product design.  The good news is that the company has cash, lots of it, to acquire technology and talent if it is willing to open up.   Integrating acquired technology in a rapidly evolving area such as A.I. is tricky but Apple may not have better options as it is clearly an underdog at this point.  Even Steve Wozniak, Apple's co-founder, is pessimistic about Apple's ability to innovate. "Look at the companies like Google and Facebook and Apple and Microsoft that changed the world — and Tesla included. They usually came from young people. They didn't spring out of big businesses."  Woz is definitely right that Apple's presentation this week feels more "corporate" than ever.  In this analysis, we have not even included companies overseas.  Some have the resources and ambition to become a leader in A.I., a topic I will revisit separately.  Apple has seen this movie before as it dethroned and decimated many companies including two tech giants, Nokia and Blackberry.  Let's see how this movie ends but I am certainly not buying Apple stock now, despite its low P/E ratio and much hyped ten-year anniversary iPhone release in a few months. One day, the phone may disappear and information will be connected to our brains via some magical mechanism.  Could that happen in the next two years?  Probably not.   However, Apple's smartphone profit will certainly be at risk in the next wave of technology cycle.
Unlike Apple, Softbank thrives on acquisitions.  The company just announced the addition of two robotics companies to its shopping list.  SoftBank has entered into an agreement to acquire Boston Dynamics and Schaft from the parent of Google. The transaction is consistent with Softbank CEO Masayoshi Son's investments strategy in robotics technologies in the last couple years.
While drones and robots are changing manufacturing and product delivery, bots are going to deliver breakthroughs inside our bodies.   Scientists are expecting micro-bots could soon shuttle radioactive drugs to cancer clusters, perform surgeries inside the body, or clear out blood clots lodged deep inside the heart or brain.  You can see below a magnetically driven helix captures an immobile sperm and carries it to an egg cell, research work done by Professors M. Medina-Sánchez et. al in Germany. The video below reminds me of the submarine in an old sci-fi movie, Fantansic Voyage. (Please go to the Nature website if the GIF file below doesn't play.)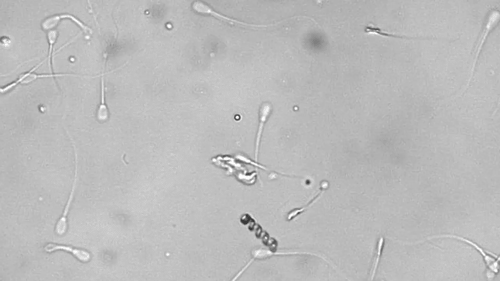 Staying on the topic of synergies between A.I. and biology, Jeff Hawkins, the cofounder of Numenta, explains in IEEE spectrum how the company is improving A.I. by reverse engineering the neocortex, part of the mammalian brain involved in higher-order brain functions. Before rolling up his sleeves in A.I., Hawkins is also the cofounder of PalmPilot and Handspring and he clearly has lots of experience in commercializing cutting-edge innovations.   In the article, he argues that the three fundamental attributes of the neocortex—learning by rewiring, sparse distributed representations, and sensorimotor integration—will be cornerstones of machine intelligence. Future thinking machines can ignore many aspects of biology, but not these three.  Hawkins is absolutely correct that the Wright brothers built their plane by observing birds' flying mechanism.  Unfortunately, our understanding of the human brain is still in its early innings. I think it is likely that technology will continue to improve our understanding of the brain, which will then improve A.I., forming a positive feedback loop.  An article by Technology Review explains more companies such as Nividia and Google are focusing on graphics processing unit (GPU), instead of central processing unit (CPU), to power the growth of A.I. and help reinforce the feedback loop discussed earlier.
Speaking at the Code Conference in California this week,  Marc Andreessen, Netscape founder and prominent venture capitalist, argued that self-driving cars will not only build productivity and save lives, but will drive many job-creating ancillary industries.  His arguments look weak to me.  Obviously, it is in his best interest to underplay the impact of A.I. on the labor market.  You can go to this website to see how many jobs are expected to be destroyed by A.I., based on an academic paper by Frey and Osborne, researchers at Oxford University.  Just enter your job title and the web site will handle the rest.